Beam
Creating 
a new enterprise software product that companies can purchase to help support new hires at various points during remote onboarding
Challenge
The COVID-19 pandemic has made work from home the new norm. Research indicated while employees had no problem continuing or finishing well-defined projects, it became challenging for new hires to onboard in a virtual setting. This problem could be especially acute for new hires and juniors, where clear guidance was necessary. It was also hard to sustain camaraderie and community for new hires onboarded remotely.
My Role
End-to-end product design, User Research, 
Usability Testing
Tools
Figma, FigJam, Adobe CC
_________________________________________________________________________________________
01 Solution
Beam is
a new enterprise software product that companies can purchase to help support new hires at various points during remote onboarding
. The
mobile app sends updates
for immediate actions
and
connects recent hires
in the organization. At the same time, the
dashboard provides more detailed content
, such as
an onboarding calendar
and
task board
to track users' progress based on deadline prioritizations. 
💡Read the 66 pages published dissertation in

ProQuest
​​​​​​​
02 The Research
Background
This project began from the Eagle Hill Consulting research I read "In the United States,
45% of employees reported that they were burned out in May 2020
. COVID19 has contributed to this unusually high level of stress because of
increased workloads (45%); the need to juggle personal and professional life (35%); lack of communication, feedback, and support (32%); increased time pressures (30%); and unclear and changing performance expectations (26%)
(
Eagle Hill Consulting
, 2020)."
This topic raised the dilemma:
Do employees still feel inspired and motivated when collaboration gets challenging in the home environment?
I want to explore the nature of creative innovation of large multinational technology companies and understand its relationship with workplace culture, environment, artifacts, and other factors.
Literature Rev

iew
I began the process by researching books, newsletters, academic papers, and case studies from five years before the pandemic to the present to understand the landscape of the topic. Many sources explored how people would work remotely well into post-pandemic. They also investigated the domain of the future of work, a hotly contested space with lots of activity. 
The literature review pointed to four main patterns that can transcribe into design opportunities:  
01 

Employees have sought a safer and more
flexible working environment and hours.
Managers should plan to return to the office strategically by focusing on the tasks most effectively done in person.
03

Employee loyalty was strained without
face-to-face interactions.
​​​​​​​
Establishing organizational cultures for new hires in a virtual setting was more challenging. 
0

2
Employees found it hard to be inspired and
creative at a distance.
While employees had no problem continuing or finishing well-defined projects, initiating a new project in a remote setting became challenging.
04 

What worked well in the office setting might not always work remotely.
​​​​​​​
Managers must also reassess employee evaluations to adapt to the new working model.
Stakeholder Mapping
A taxonomy of all roles in a sizable technology company was created and presented key constituents for primary research: hiring managers, team leads, and new hires.
User Interviews
The contextual inquiries were intended to explore the knowledge domain to deepen understanding and make more informed decisions in which design opportunity to pursue.
I recruited 12 participants with different job responsibilities and experience levels, and the interview questions were tailored to understand how employees work, what they value, what issues they face, and how they cope.
participants included product designers, UX technologists, programmers, and PMs
of them have been working entirely remotely since the start of their current job and onboarded remotely
Photo Studies
Photo studies invite participants to use photos to document aspects of their lives, providing visual insights into user interactions, behaviors, and priorities. The same twelve participants were given general instructions toward the end of the contextual inquiry on what to document through images, such as their workstation, work environment, onboarding experience, and team-building experience at the comfortable level.
A product designer at Meta expressed that the use of Meta Horizon World to onboard resonated with her in that "even though I am someone who's working virtually, I felt there's this kind of sense of I still work with real people in the same room." 
An experience designer at Amazon shared a meme she found during the onboarding week while reading many documents. And she thought the meme accurately summarized her week. ​​​​​​​
Formulating Insights - The RBT Exercise
This was the most time-consuming phase of this research process; mapping 40-pages of notes and finding patterns. I used the Rose, Thorn, and Bud exercise to analyze and identify what's working, what's not, and where it still needs improvement in the onboarding experience.
The field research led to the design insight into the gaps in the current onboarding experience. Participants from the big four technology companies are generally more satisfied with their virtual onboarding experience, and in contrast, participants from other companies rated poorly for their onboarding.
The real work needs to happen for companies that don't have enough resources or well-established process.
​​​​​​​
​​​​The field research also pinpointed
the demographic that needed the most help, junior employees
, which was also brought up in the secondary research.
Defined Target Users 
This problem could be especially acute for junior new hires, where clear guidance was necessary.
_________________________________________________________________________________________
03 Problem Statement 
How might we create a better remote onboarding experience
for junior new hires?
_________________________________________________________________________________________
04 Ideatio

n & De

sign 
Solution
Through the field research, I was able to take what I learned from the big four to ideate design solutions and
transfer the insights into feature sets for a different market
. The scaffolding technique sets the foundation for my design solution. The field research outcome exceeded expectations, and many feature sets were sparked or transcribed through these conversations.
The solution is to create
a new enterprise software product that companies can purchase to help support new hires at various points during remote onboarding
.
Low-Fi Wireframes
The prototyping process began with black and white low-fidelity wireframes on paper, then transitioned into Figma.
User Testing 
I conducted paper wireframe testing and had a few target users walkthrough of mobile and dashboard wireframes. 
"

So do I choose "get started" or "log in" as a first-time user?
" 
Design Change:  
use more
precise wording in guiding users through call-to-action buttons; for example, replace "get started" with "register" and "send message" with "direct message in Slack." 
"The daily calendar had different colors, and I wasn't sure what they meant." 
Design Change: 
Unified all meetings to the standard gray color and made the selected meeting into the primary color purple berry. 
"The list of active tasks in the dashboard's homepage felt overwhelming with too much content."
 
Design Change: 
Moved more explicit content, including task descriptions, attachments, and team members, to the second page when users clicked on each task. The homepage only displays critical content such as priority, progress, and due date. 
Final Prototype: Highlights 
Persona-based scenario mapping was leveraged to influence feature set design. Each highlight captures an aspect of the experience and calls out what user scenario or problem it is solving and what the solution is.
User Scenario
Charlotte received her work laptop 60 days before orientation, a few pieces of company merchandise, and an invite in the mail. She picks up the invite and reads, "Welcome, Charlotte. Please download the app below to begin onboarding. An invite to the complementary dashboard has also been sent to your email." 
Solution


To set up an account, verify using the users' work email. One important step in setup is to

connect frequently used company products

such as Outlook, Slack, and Figma to

streamline workflows

.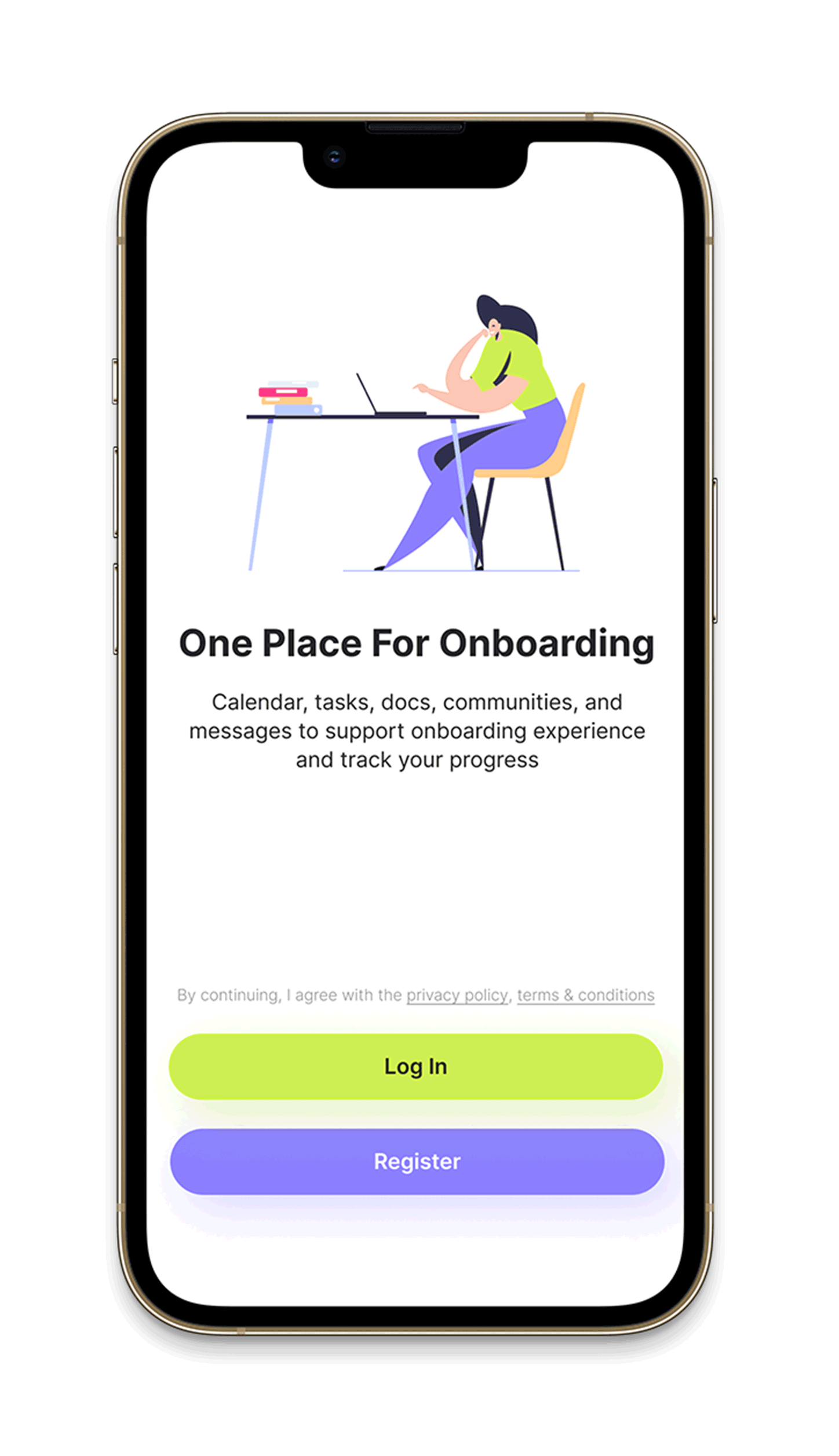 Integrate third-party tools
User Scenario


It is four o'clock in the afternoon, and Charlotte has just finished the company-wide orientation for new hires. She felt overwhelmed as the HR team went over a lot of information and didn't get to jot down all the details. Charlotte receives a new message in the app...
Solution


The app allows team members to

share links to other third-party tools through quick messaging

, and the user can respond to messages and

launch third-party tools within a few clicks

. 
A community for recent hires
User Scenario
Charlotte has met her manager and team members and has been assigned a mentor, Amy, a senior product designer on the team. Amy gives her a small design exercise for this week. However, Charlotte has trouble creating components in Figma, which stops her from moving forward with the design. She left a message in Slack an hour ago, and Amy still hasn't replied. Charlotte starts to panic because she doesn't want to appear unproductive. She decides to check out the community feature in the application while waiting for Amy to reply. 
Solution


The community

gathers peers

with different roles and teams that

recently joined the company

. Community offers

buddies, channels, and work together

for peers to ask questions, host

work sessions, and grow together

. 
User scenario
Charlotte gets a new message in Slack, and her manager, Tim, says hi! "I've set up some one-on-one meetings and uploaded a few design documents in the dashboard if you want to look at the upcoming tasks before we connect next Monday." Charlotte launches the dashboard...
Solution
The landing page

displays all active tasks color-coded in priority

. Each active task includes

assignee, progress tracking, and due date

. The

calendar page

organizes all upcoming meetings.
Outcome
I presented high-fi prototype to 40 participants and conducted usability testing using Wizard of OZ and A/B testing.

task completion rate within the expected timeframe
task-level satisfaction rate
Reflections
My solution only tackled parts of the problem analyzed from the research insights. There were other stakeholders and aspects of onboarding I didn't address within the scope and time limits of the project, for example: 
1. Although many companies realized the limitation of remote team building and tried to encourage more interactions amongst coworkers, they haven't been successful. 

2. Most participants I spoke to found little value in coming into the office. They expressed it was tough to coordinate with everyone on the team because not everyone wanted to be in the office. 
These are just two examples of design opportunities I didn't get to dive deeper into but wish to pursue in the future.
​​​​​​​
Illustration Credits 
GoodStudio, 
Superstar
, Trendsetter
​​​​​​​