The Transitional Braille Project
Designing a tactile sticker system that 
motivate adults who lose vision later in life to learn braille
Challenge
Globally, at least
2.2 billion people have some form of vision impairment
, affecting their academics, employment prospects, and most importantly, their ability to live independently (
World Health Organization
, 2021). Braille is an important and empowering literacy tool that can have an indelible impact on the visually impaired community. Unfortunately, braille literacy has declined as technology like text-to-speech has become more popular. We want to create a product that
motivate individuals with visual impairments to learn braille
. Secondarily, we want to expose more sighted people to braille because increased awareness makes it significantly easier to advocate for accessibility.
My Role
User Research & Testing, Ideation, Prototyping
Team
​​​​​​​Sean Zhu​​​​​​​, Stacey Yao
Tools
Figma, Adobe CC, Miro
_________________________________________________________________________________________
01 The Solution
The Transitional Braille Project 
is a
system of labels with raised braille characters
designed for the visually impaired community. Users can apply these braille tactile stickers to the buttons of electrical appliances such as microwaves and laundry machines, kitchen organization containers such as bottles for spices, skincare products like shampoo and conditioner, and other daily necessities. We want to increases users' awareness of braille
through daily exposure to simple braille use
.
02 The Motivation 
"We're All Just Temporarily Abled"
The 
Microsoft Seeing AI
 project I worked on last year allowed me to have many meaningful conversations with users in the low vision community, a user group I lacked understanding of previously. While they provided valuable insights during expert interviews and user testing, they also expressed that there were
not enough products designed for their user group
in the market.  
The Transitional Braille Project is a
passion project
for blind and low vision communities. We want to create a product to help the visually impaired community
make their lives easier
. We also believe we aren't just designing an accessible product for a subgroup of people; we're also
designing for our future selves
.
Co-designing with the Visually Impaired User
We invited Gus to join us as a consultant and co-design throughout the process. ​​​​​​​

03 Resea

rch
Literature Review
We began the secondary research by reading academic papers and collecting case studies or exemplars to understand the low vision and blind community. We were also looking to explore what is braille, braille literacy and whether it's still relevant.
✨ 
Rehabilitation centers do what they can to change harmful pre-existing ideas about braille and blindness, but it is a
complex and time-consuming
task.
✨ 
Sighted people can be mainly considered
uninformed about braille
 or the concerns about
falling literacy rates
.
✨ 
Attitudinal change may be achievable not through the top-down implementation of costly educational and public-relations campaigns but
grassroots changes
. This approach requires individuals who are blind or accessibility activists to
make incremental contributions
to alter the general public's beliefs. 
The Significant Decline in Braille Literacy
Braille is a system invented by a man named Louis Braille in 1824. Braille consists of 63 characters, and each character consists of one to six bumps arranged in a
six-digit matrix or cell
. It is a system text written specifically for blind and lower-vision communities.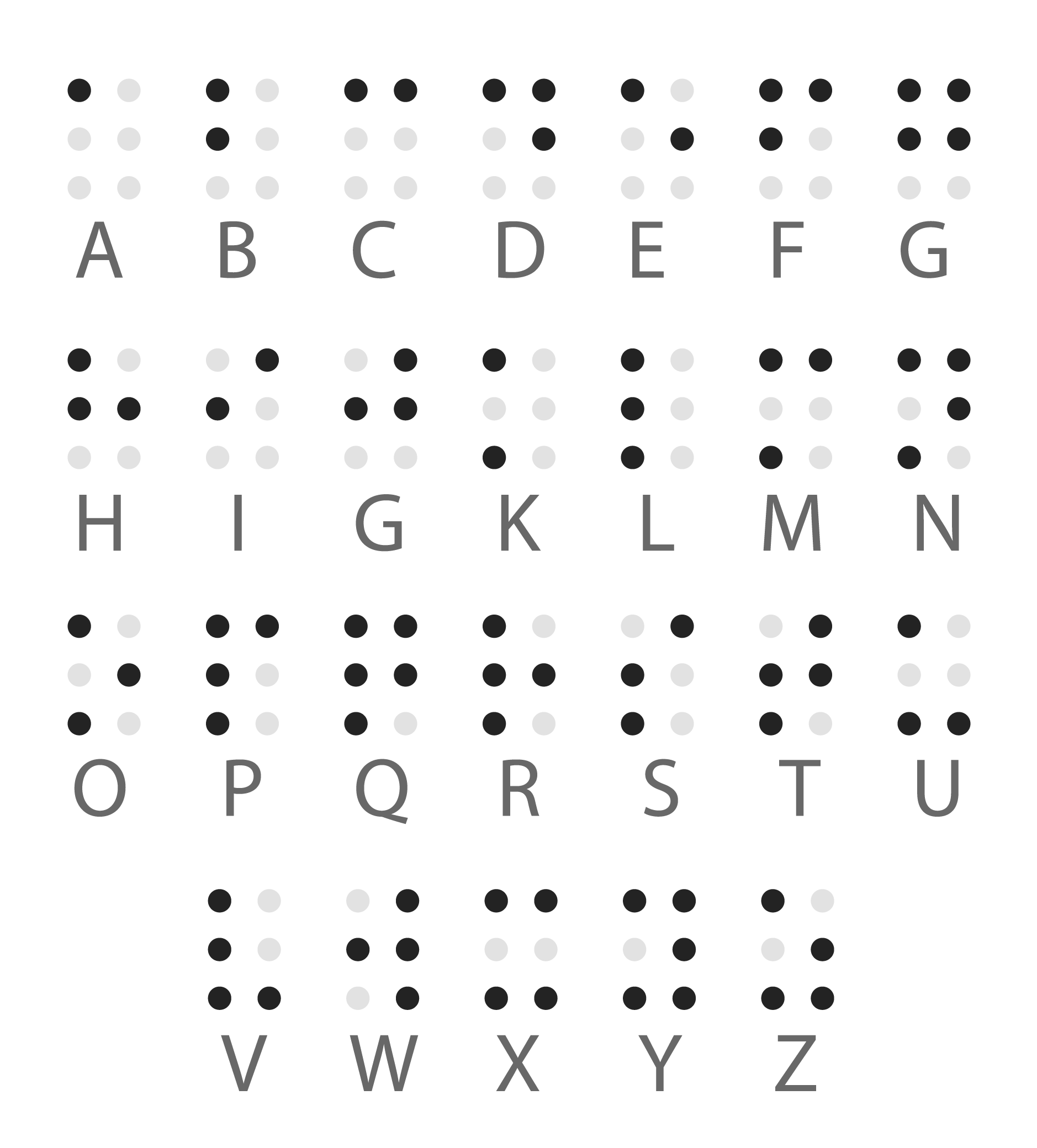 ✨ 
 Braille is an
important and empowering literacy tool
that can have an indelible impact on the visually impaired community and significantly improve their lives.
✨ 
The unfortunate thing that happened is that many itinerant teachers in the school systems in the United States began to
de-emphasize braille
. There are many reasons for the national decline, but the primary reason is
technological development
, such as screenreader.
Analysis of our research led us to define the design opportunity: 
How might we motivate adults with visual impairments to learn braille?
Competitor Analysis
To better understand the context of braille learning and the differences between competing services, we dived into existing braille awareness and education products in the market. 
Contextual Inquiries
Because we are unfamiliar with our user group and braille, we planned a substantial amount of time conducting contextual inquiries. We talked to members of the low-vision community and teachers of students with visual impairments to better understand the specific motivation and barriers of braille learning. We asked questions like:
What's it like to learn braille? What motivates or stops people from learning braille? What challenges of serving the low-vision community that most sighted people unaware of?
We also interviewed sighted individuals to get a sense of their present understanding of braille literacy and the low vision community in general.
Formulating Insights 
Opportunities arose from research, and we recorded them as insights and mapped them in the different clusters below. Several problematic areas in the current braille learning experience emerged from secondary and field research. 
We have a remote-friendly team, so our brainstorms were all conducted using virtual post-it in Miro.
01
Adults who lose vision later in life don't have access to the resources or products designed
to foster braille learning.
Most programs are designed for younger kids to learn braille while learning other skills such as spatial awareness.
03
Braille is not accessible in built-in environment.
There's not a ton of environmental braille in the city, and braille is also not in predictable locations. So if you're blind, you don't know where to find it because you don't know it's there.
02
Braille learning is not only for literary pursuits.
Learning the alphabet would be enough to do simple labeling around the house or office and read the elevator and numbers on the building. Braille can be supplementary for people who lose sight later. 
04
Braille learning is difficult for adult learners.
Braille learning requires a lot of memorization. Without peer learners, the learning process can be tedious and frustrating.
Defining Target Users
We want to help all of the visually impaired community; however, our solution is the most helpful for
individuals who lose their vision later in life
. We found
the gap
much of our target audience is facing: they often
do not have the opportunity to go through systematic training to learn braille
, and as a result, express little interest in learning braille.
04 Ideation
Brainstorm
We didn't want to limit our solution to an app or website. Instead, we brainstormed a wide range of ideas. After generating as many ideas possible, the ideas were ranked according 'Impact' and 'Technical Feasibility' to filter the potentially best ones. 
The Concept - The Transitional Braille Project

The idea that got selected was 
The Transitional Braille Project
. It is a
system of labels with raised braille characters
designed for the visually impaired community. Users can apply these braille tactile stickers to the buttons of electrical appliances such as microwave and laundry machines, kitchen organization containers such as bottles for spices, skincare products like shampoo and conditioner, and other daily necessities. The system enables the visually impaired community to utilize and learn braille unconventionally. 
Our Strategy
It's
hard to force people to learn new things
, especially later in life, so we don't want to convince users to spend a lot of time learning braille the conventional way. Inspired by the
"grassroots" approach
, we discovered in our literature review; that we instead want to utilize the strategy of
incrementally exposing users to braille
, starting from the alphabet and commonly used words. 
We noticed
occupational therapists utilize stickers of different shapes and sizes to mark items around the household
so that individuals with visual impairments can complete tasks at home independently.
Why not replace these bump stickers with braille labels?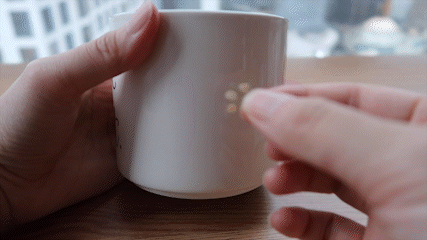 User Feedback
We presented our concept and asked members of the visually impaired community to user-test the prototype. Feedback transcript highlights:
"Wow! It'd be nice if the products actually come like this, and we have the same level of access as everyone else." 
"This concept is interesting. You can place these braille labels wherever you want." 
"Microwave is a whole other area. It's wonderful that these display devices are also labeled." 
"As someone who loses vision later in life, I was never interested in learning braille. But I'm willing to try it if the approach exposes me to braille incrementally. In addition, I imagine these labels will help me stay organized." 
Reflections & Future Considerations
As future considerations, we would like to advocate for brands to produce products with braille already on them. The partnerships will allow our users to benefit from
using more accessible products without doing any extra work themselves
. 
As most of the population, sighted people wield much social and political power. Yet, they are largely uninformed about braille and the concern with the decline in braille literacy rates. If advocates of braille have not yet been successful in promoting braille among the majority of people who are blind, what chance do they have of influencing the sighted population? We hope our project, if realized, can help spread awareness and reduce the obscurity of braille in the environment, shifting the burden of accessibility towards those who make products rather than those who need braille.

Illustration Credits

Marina Podrez

​​​​​​​