Parodos 
Designing a community platform for immersive theater 
Challenge
All live entertainment, significantly theatre, has been curtailed by the pandemic.
Ticket sales in 2020 fell 80%
, the lowest tally for the domestic box office
in nearly 40 years
(CNBC, 2020). Many theatremakers have attempted to translate the experience and immersion in a live theater performance into a virtual one. At the same time, actors were forced to perform for a camera, and stage crews had to learn new technological skills. However, the lack of experience and knowledge constraints lead to unsatisfactory virtual performance, resulting in many shows shutdown. 
My Role
User Research & Testing, Ideation, UI
Team
Sounak Ghosh, Cameron Womack
​​​​​​​
Tools
Sketch, Miro, Lucidchart, Adobe CC
_________________________________________________________________________________________
Problem Statement
How might we help theatrem

akers translate live performance into virtual experiences?
_________________________________________________________________________________________
01 The Solution
Parados is a community platform with a mission to democratize immersive technology and build a cross-disciplinary network for the theater industry to share, grow, and find opportunities. 

The platform matches theatremakers with talents based on core skills, start date, and project duration. The platform also helps theatremakers find production houses to elevate the project and investors to fund the production. 
02 The Research
Literature Review
We began the secondary research with reading academic papers, collecting case studies or exemplars, and creating a mess map modeling our present understanding of the topic. 
✨ Many theatermaker had no experience with hosting online events. 
✨ The use of technology during the pandemic gave birth to a lot of creativity in live entertainment. 
✨ Many artists lost their jobs due to the postponement of activities involving crowds. 
Expert Interviews 
​​​​​​​
Fly-On-The-Wall Observations
We attended the 5th Wall Forum, an event bringing together industry insiders from the theater and technology worlds to create opportunities for new kinds of virtual performances for paying audiences. We understand technology presents new affordances for both the production team and audiences. 
5th Wall Forum with industry insiders from the theater and technology worlds
Synthesis & Insights

Using Affinity diagramming and Rose Bud Thorn exercise, we started listing all the major data points arranged them into common patterns or themes. We then analyzed what's working, what's not with the current state of live-to virtual theater production, and what has the potential to 
act as heuristics for a successful design.
Sorting insights using a Miro board instead of a whiteboard since the team is remote due to the pandemic
🚀 

New Affordances
Technology presents new affordances for the production teams. 


🤝

Cross Collaboration
It's easier than ever to collaborate with others that are not local. Technologists are incredibly excited about the opportunity to participate in theater production.
✍️

Steep L

earning Curve
 
There is a steep learning curve in immersive technology for theater-makers.
💰

Financial Struggle
Many theaters are struggling financially and hesitant to undertake interventions involving emerging technologies. 
Defining Target Users
Combining insights from literature review and field research, we defined our primary target users could be theatremakers who want to transform live theater performance to virtual but don't have the knowledge, resources, or budget. The secondary target users could be technologists, actors, crews, and those who want to offer their talents. 
Stakeholder Mapping 
A stakeholder map was made to better understand the context and involved actors in the ecosystem. The stakeholder map helps identify all relevant roles in live-to virtual theater production and points out 
a significant portion of traditional theater functions require learning new knowledge or adapting skills when transitioning from live performance to virtual.
Stakeholder map of a theater production
_________________________________________________________________________________________
Hypothesis
If we create a platform to gather actors, technologists, production studios, and those who want to participate in immersive theater production, then theatremakers will find experts with technology backgrounds to help bridge the gap of transitioning from a live-to-virtual theater production. 
_________________________________________________________________________________________
03 Ideatio

n & De

sign 
Information Architecture 
After the team had brainstormed potential solutions, I created architecture information to map out all feature sets. This allowed us to gauge how the platform would work system-wide. The information architecture served as foundational support for guiding our subsequent pages and how they relate and interact with one another. 
Wireframe
We brainstormed and drew explorations on the whiteboard; discussed user flow and feature prioritization. I then converged all the ideas and formulated them into low-fi paper wireframes. A few participants walked through the paper wireframes to influence changes to critical moments in user flows. 
User Feedback
Conducting preliminary user testing using paper wireframes before transitioning into low-fi prototypes was helpful. We tested the landing page and onboarding experiences with the stakeholders we interviewed. They found the concept helpful and would recommend it to colleagues and friends in the industry. They also found the onboarding efficient and straightforward in guiding them when they first visited the site.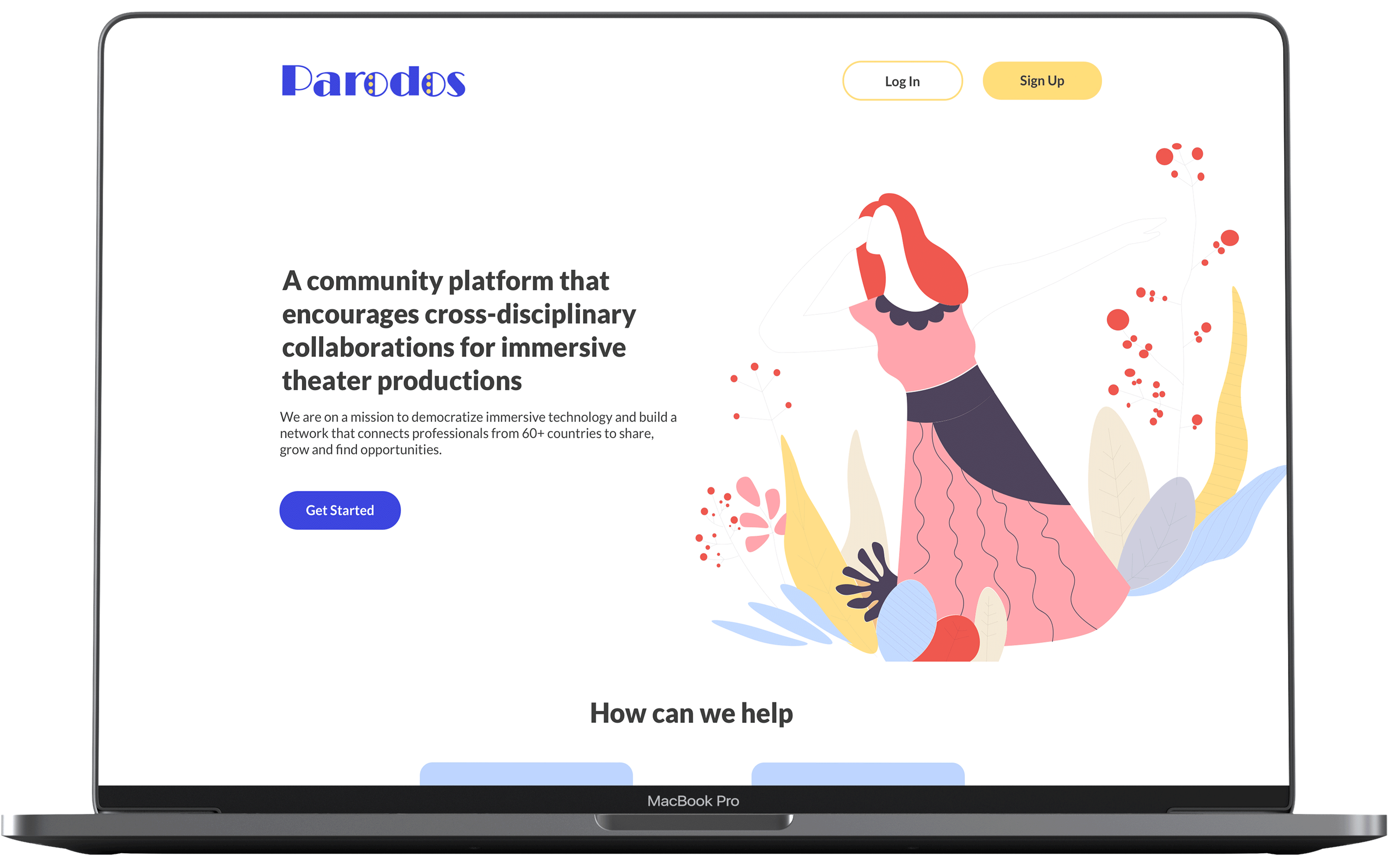 Landing Page
Creating a simple experience for users to quickly grasp what features Parodos provides
Onboarding Questions
We designed onboarding questions for first-time users who are unsure where to start to guide them to a seamless beginning. Users can find top talents or job opportunities that match the right skill sets, project duration, start date, and other requirements through a few simple questions. 
Next Steps & Reflections
We focused more on research to understand this project's challenge and user needs. As a result, we could only sort out the information architecture and develop the high-fidelity prototype for the landing page. I want to continue creating the rest of the pages, conduct more thorough user testing and make improvements as the next steps.
It was challenging to have face-to-face conversations with our stakeholders and conduct research in person because of Covid-19 restrictions. However, shifting the research process from in-person to virtual encouraged us to reach out to a more diverse group of experts, which influenced our design.
Illustration Credits 
Walnut Bird, SofiaV