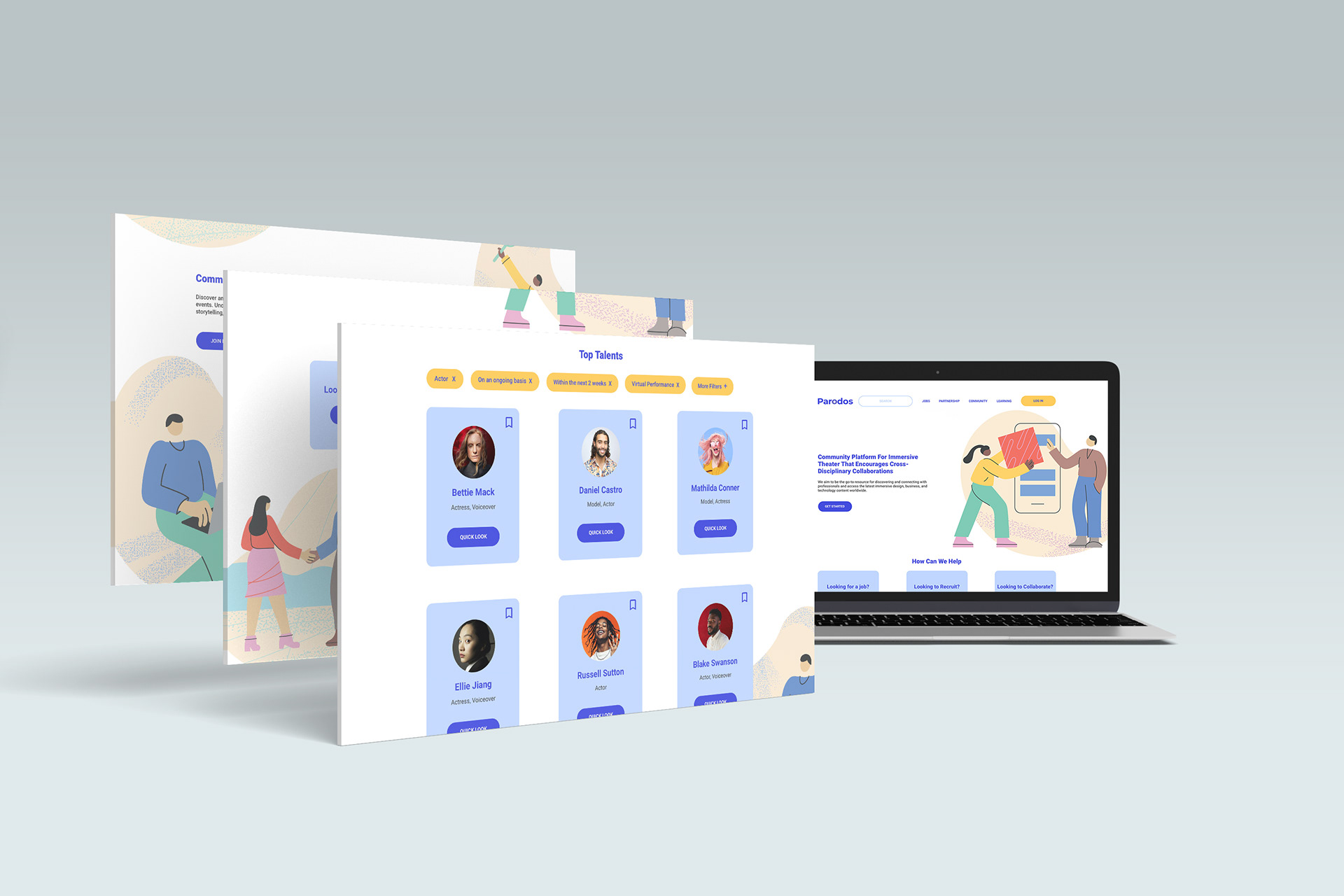 User Research: Virtual Theater Performances 
With the pandemic, all live entertainment, significantly theatre has been curtailed. Over the last year, research initiatives at the intersection of digital and online media design and live entertainment have shifted to focusing on how best to translate the experience and immersion of attending or participating in a live performance into a virtual one. We researched the translation of live entertainment forms, understood the opportunities and constraints of live-to-digital, and came up with a novel solution to help make artistic experiences intended for live audiences better.
School Project, Group of 3
How might we reimagine the current state of virtual theater?
The
lack of communication between theater-makers and technologists
affects the ability of creating virtual plays. There is a
need for a 
community platform to connect experts from cross disciplinary network

to share, grow and find opportunities.
We began doing secondary research, reading papers, collecting case studies or exemplars, and creating a mess map modeling our present understanding of the topic. Based on what we've read and found, we organized virtual theater performances into stakeholders, technology, environment, and accessibility and summarized the problems and opportunities in each discipline.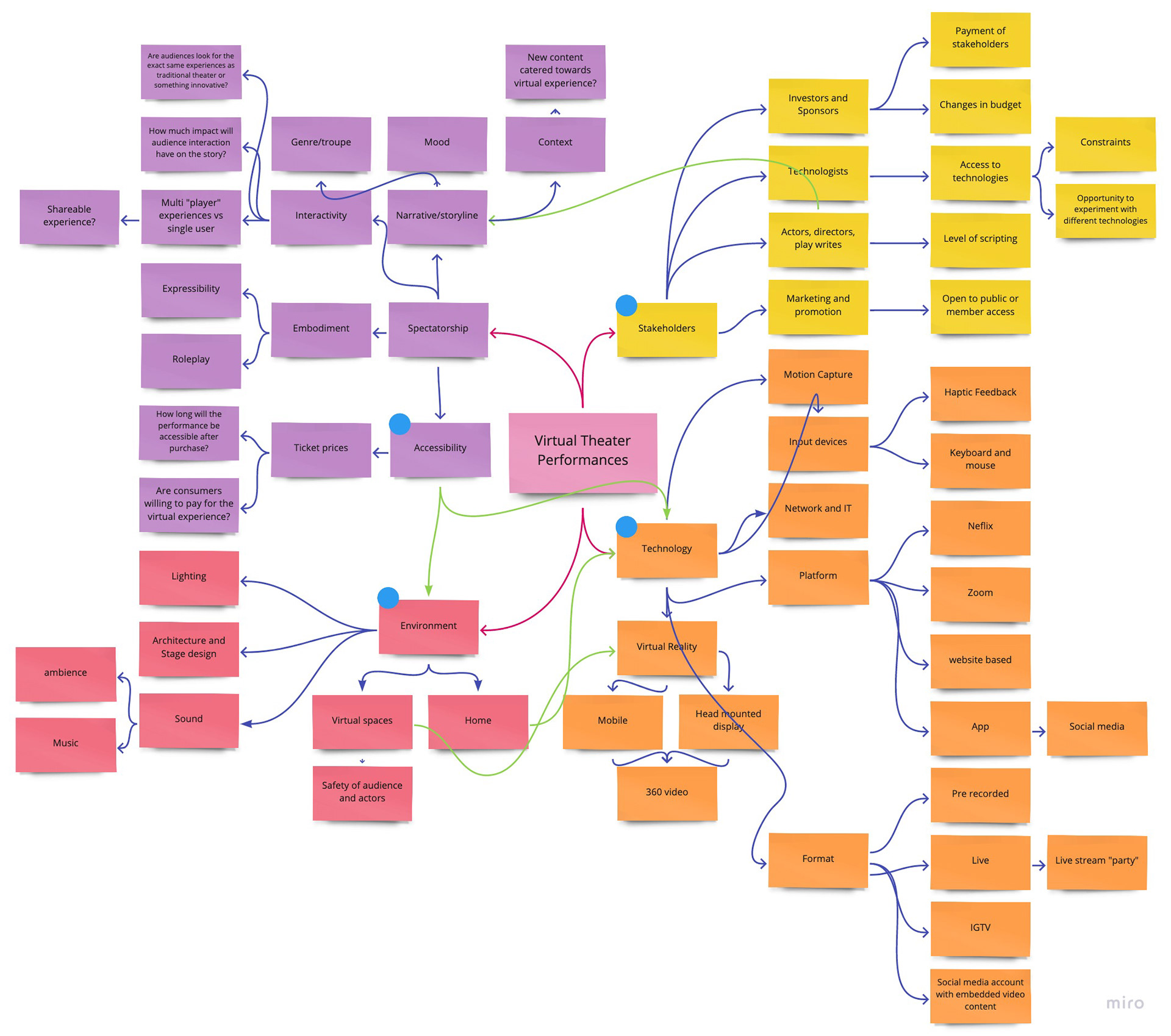 We developed a stakeholder map into four categories: pre-production, production, theatre staff, and technology. Then we organized the roles in each category into the positions that require new skills and purpose when the live performance turns into virtual; the roles that remain mostly the same but require adapting their skills for the new format; and the roles that can use the same skills.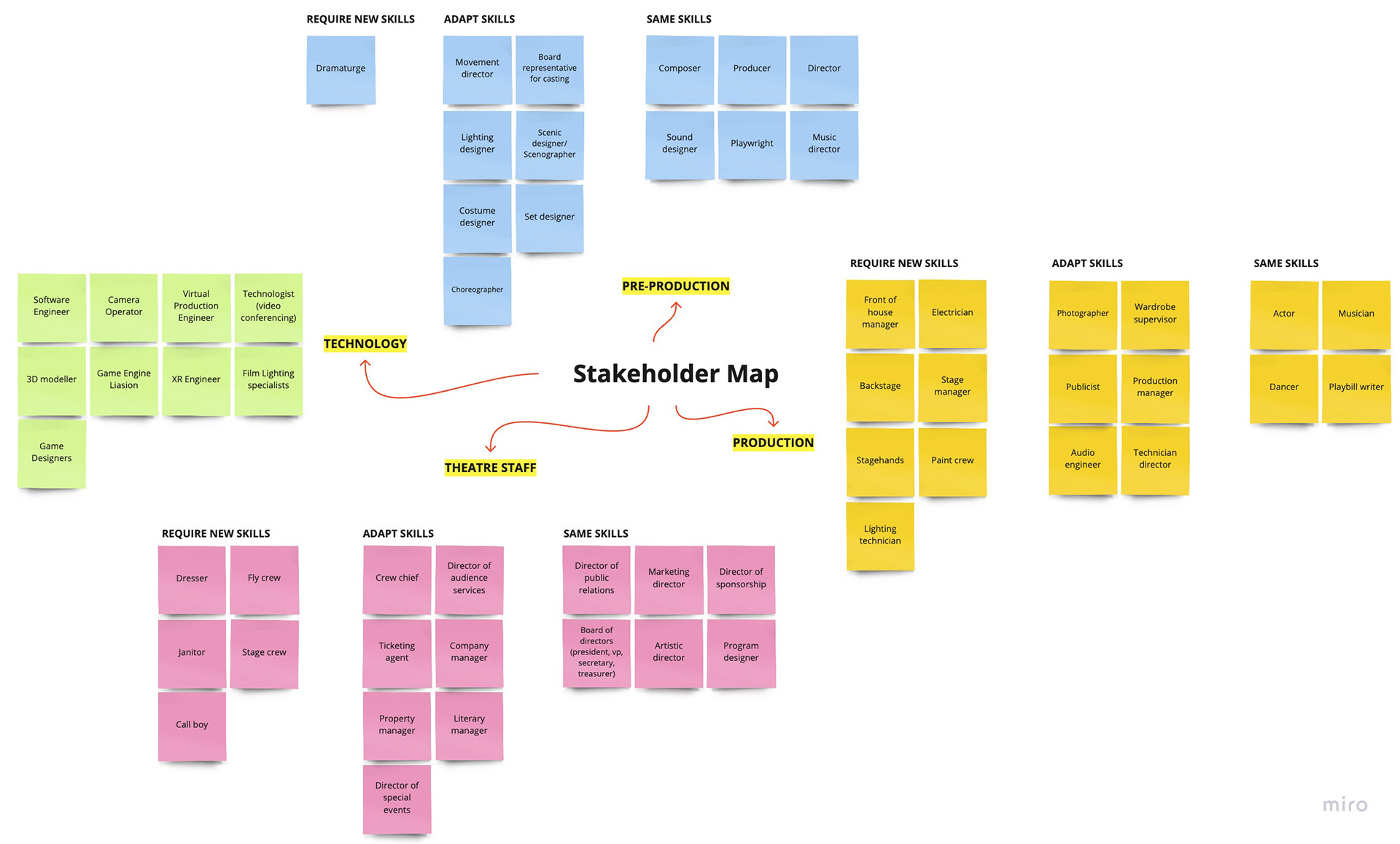 Riddibesh: stage actor for Bengali theatre, freelance actor
Todd Bryant: virtual production professor at RLab and Tandon SOE, works with the novel implementation of technology methods including motion capture, green screens, game engines for virtual production of live events, film sets, broadcasts, etc.
Arnab Chakravarty: recent graduate from NYU Tisch, works in immersive theater 
Joshua Reed: film school student at NYU
FLY-ON-THE-WALL OBSERVATIONS
We attended the 5th Wall Forum, a virtual event bringing together industry insiders from the theater and technology worlds to create opportunities for new kinds of virtual performances for paying audiences. We understood their experiences and opinions on utilizing the web, virtual reality, and augmented technology platforms to support live performance.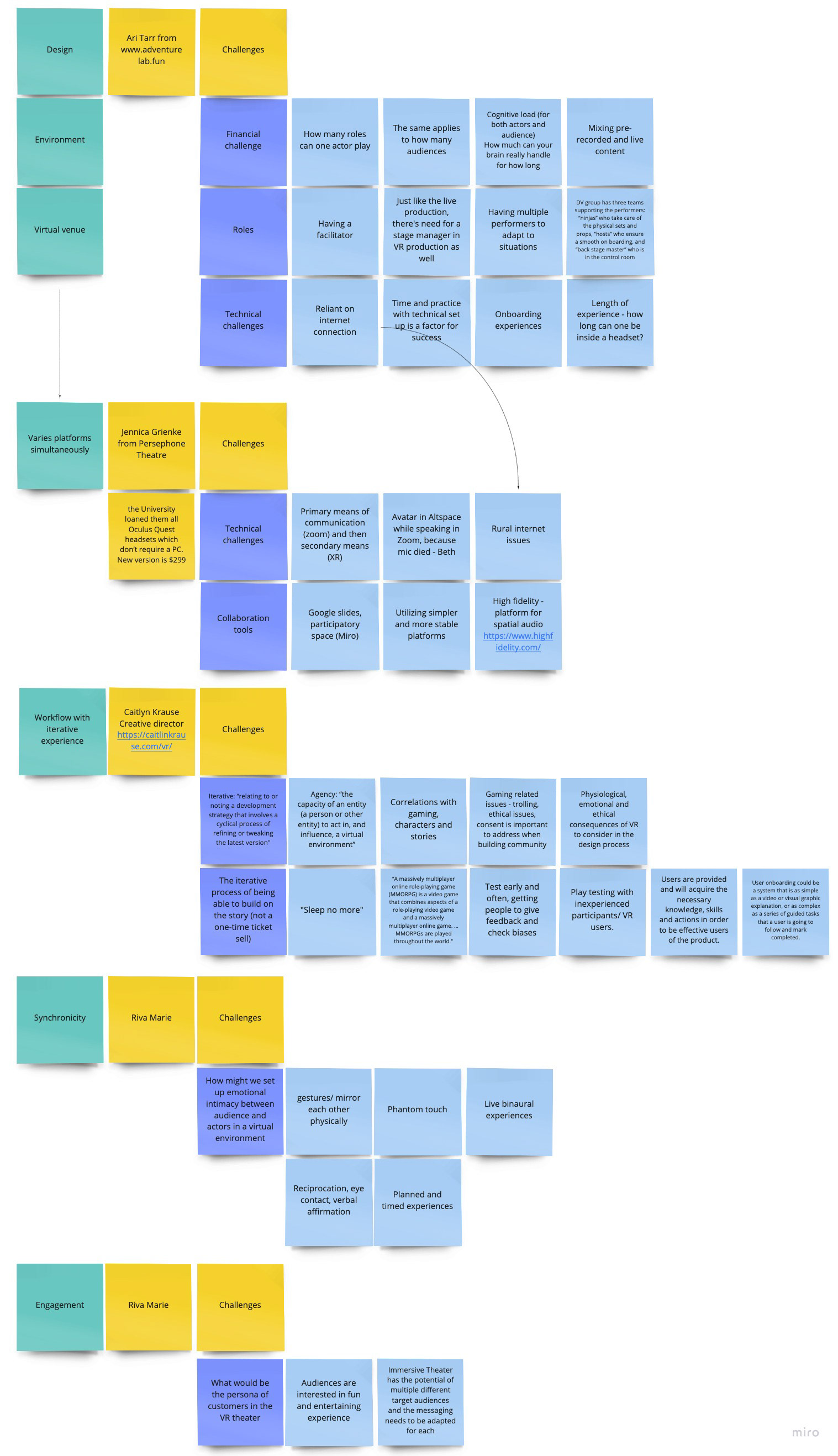 Based on doing research 'in the field", we were able to find out new things about our stakeholder, including their needs, wants, habits and practices and wishes.​​​​​​​​​​​​​​
Using evaluative methods from Hanington and Martin's
Universal Methods of Design
, we started listing all the major data points from our primary and secondary research. We arranged them into common patterns or themes that might act as heuristics for a successful design.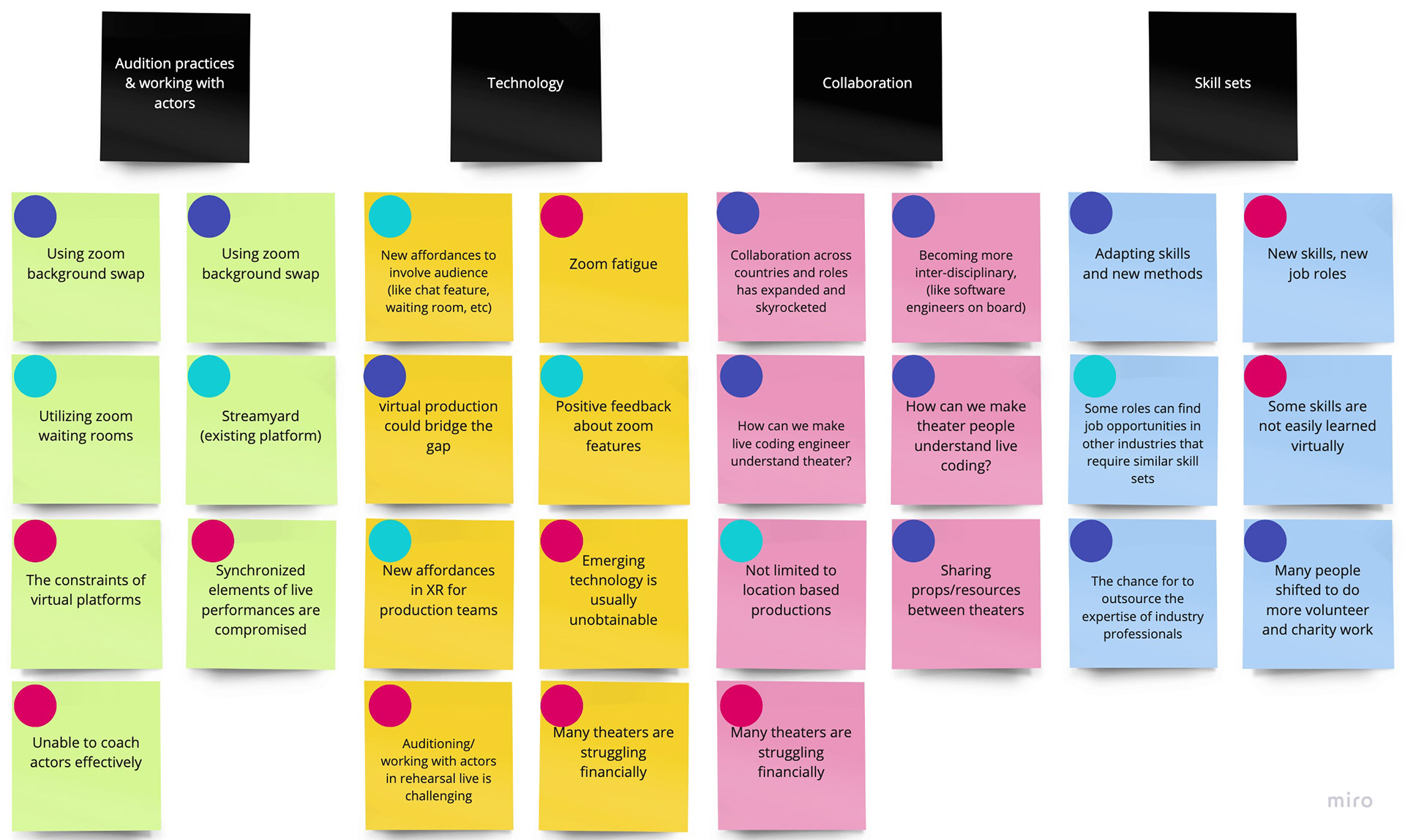 The lack of communication between theater-makers and technologists affects the ability of theater-makers to create virtual plays. The result of which is unsatisfactory virtual performances, or a lack of virtual performances in general.
Parados, a community platform with a mission to democratize immersive tech and build the world's best cross disciplinary network for the theater industry to share, grow, and create opportunity.
The platform allows people to hire talent, offer freelance services, look for tools, learn skills, and find community.​​​​​​​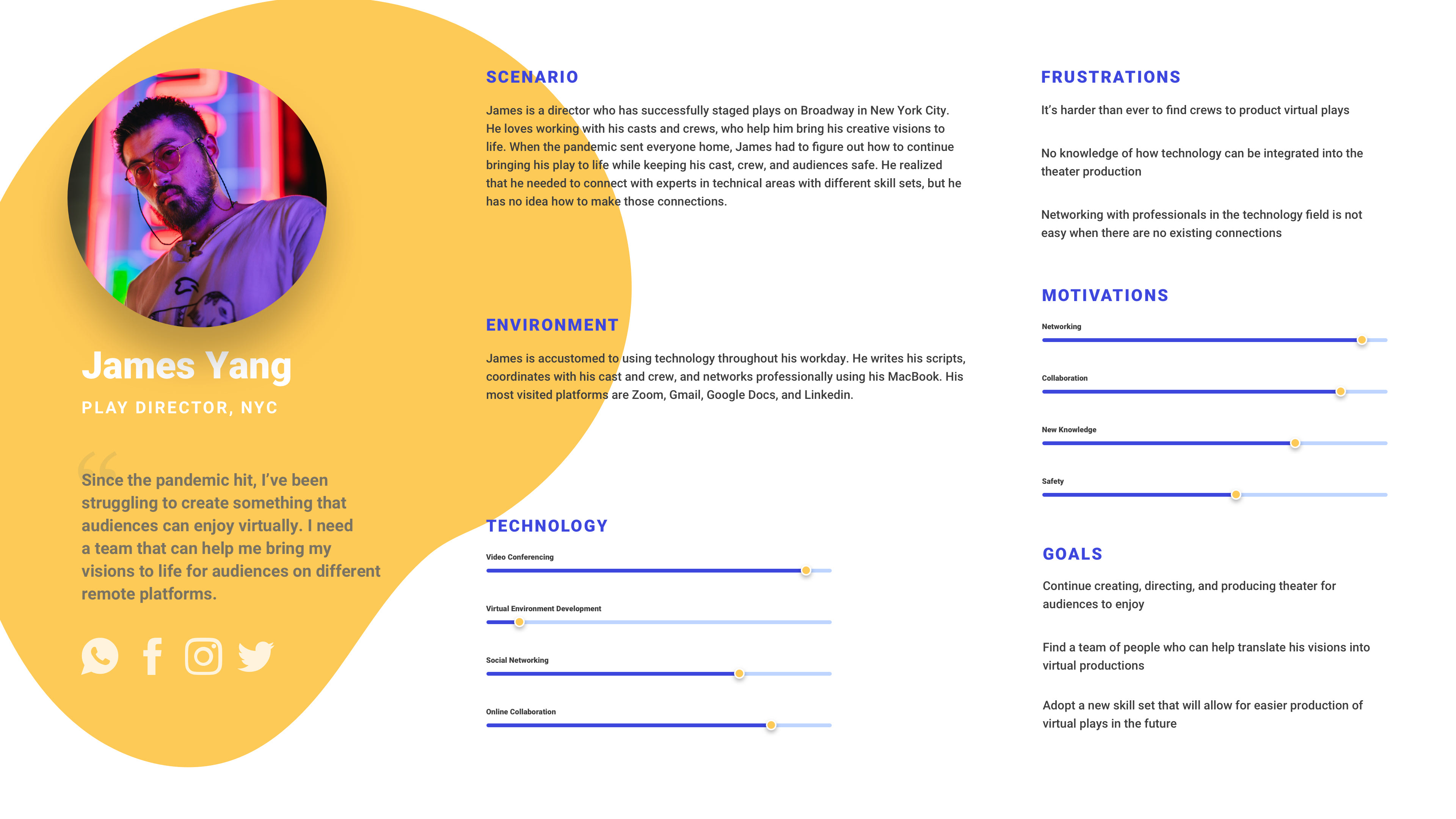 We felt that the onboarding process was an important part of the platform because it would allow for users to easily find talent with extremely specific skill sets on a platform used by so many different people. In practice, users would be taken through the onboarding "questionnaire" as the first step in the process of hiring talent. This way, the results shown to the user on the suggested talent page would perfectly align with the desired skill set.

​​​​​​​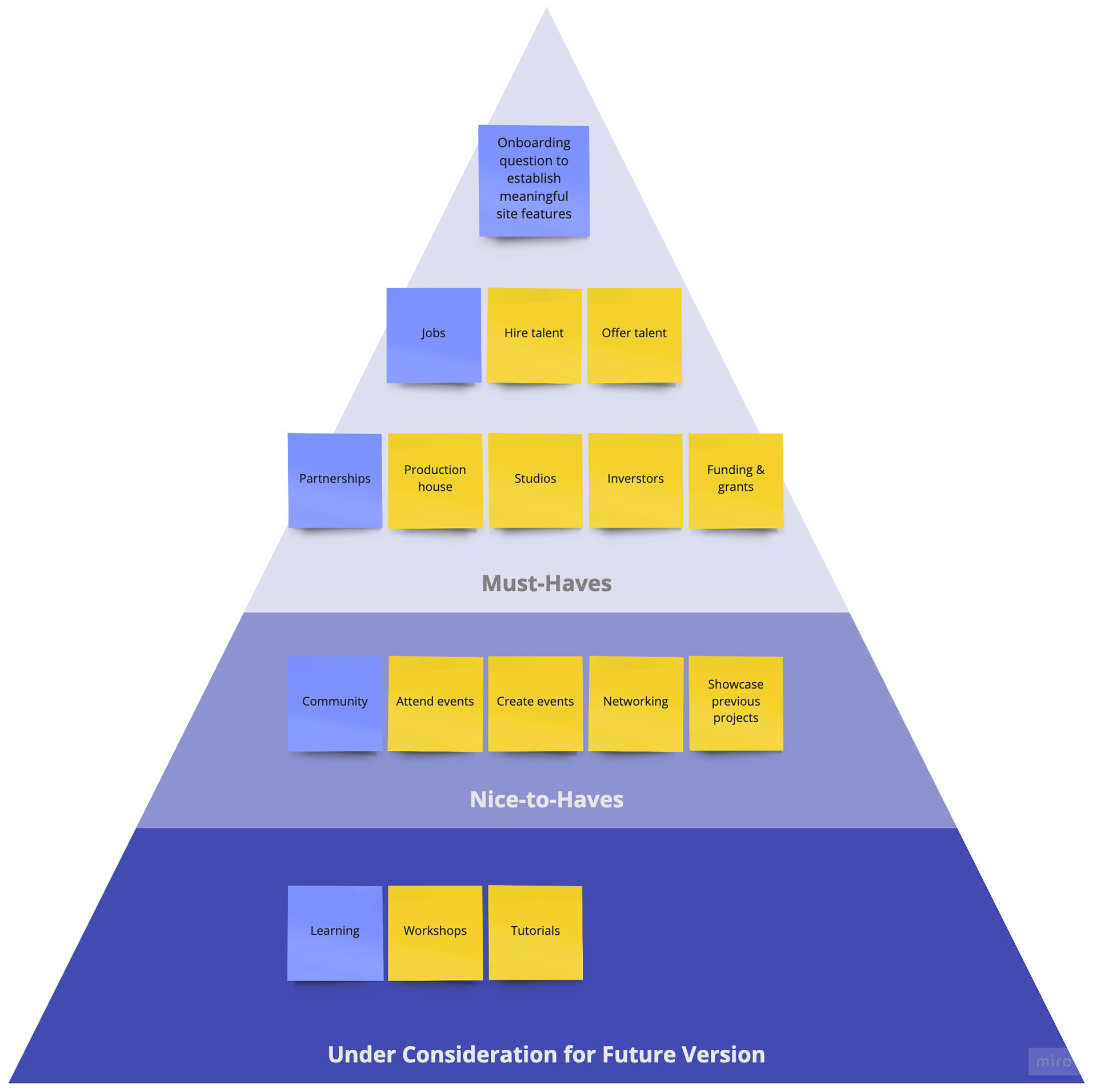 ONBOARDING QUESTIONS USER FLOW
The onboarding process is an essential part of the platform because it will guide the users to find talents, offer talents, or find collaboration opportunities with the right skill sets and other requirements they had in mind. 
Below was a user's flow through the onboarding questionnaire as the first step in the process of hiring talent. The platform helped the user to sort out the top 20 suggested candidates that met his requirement through the onboarding process.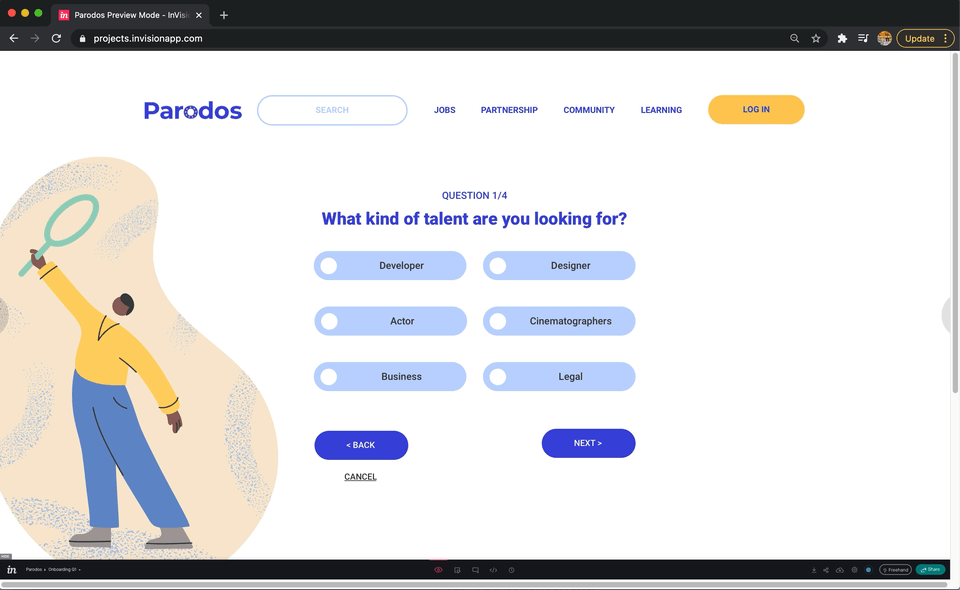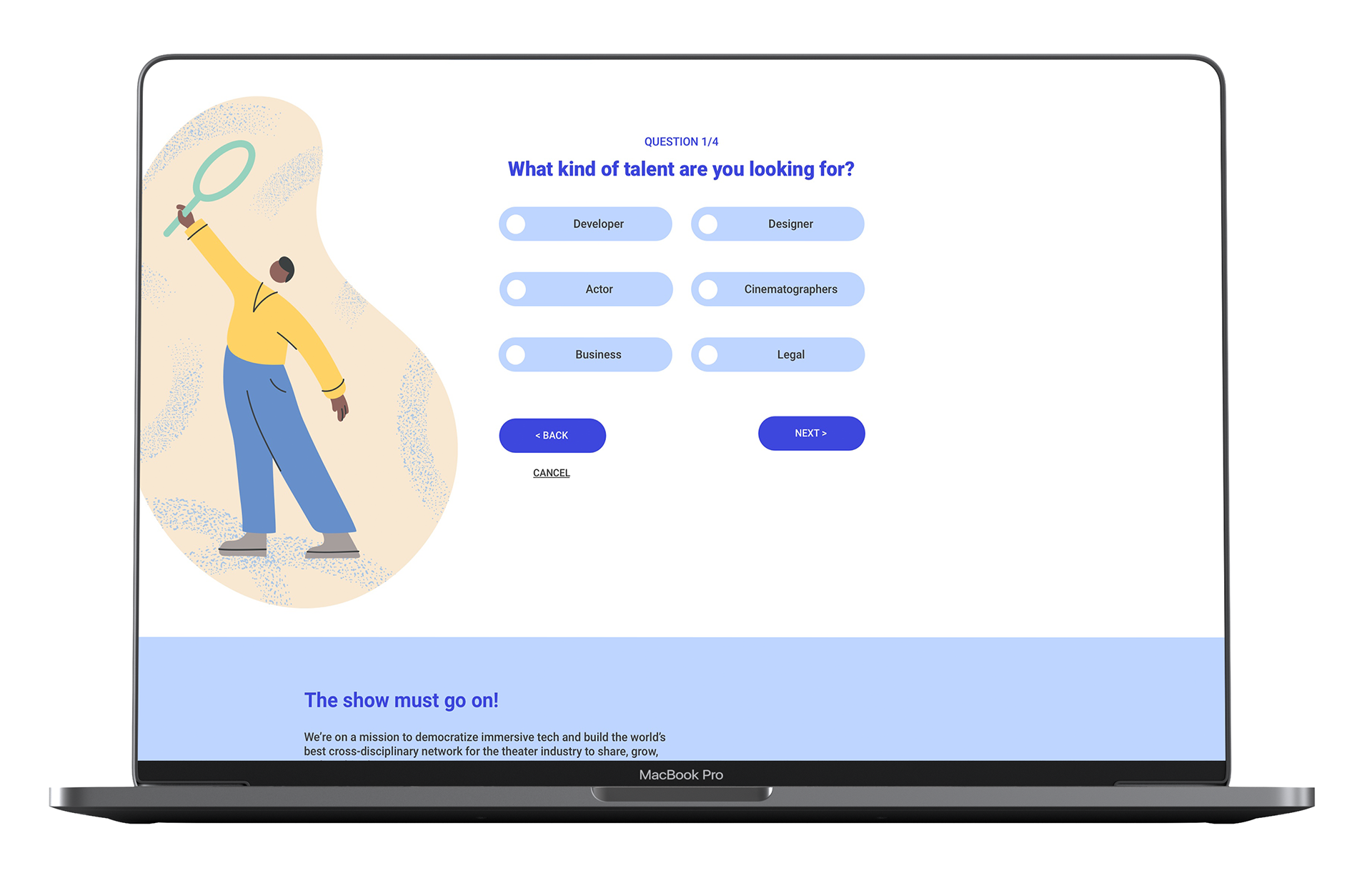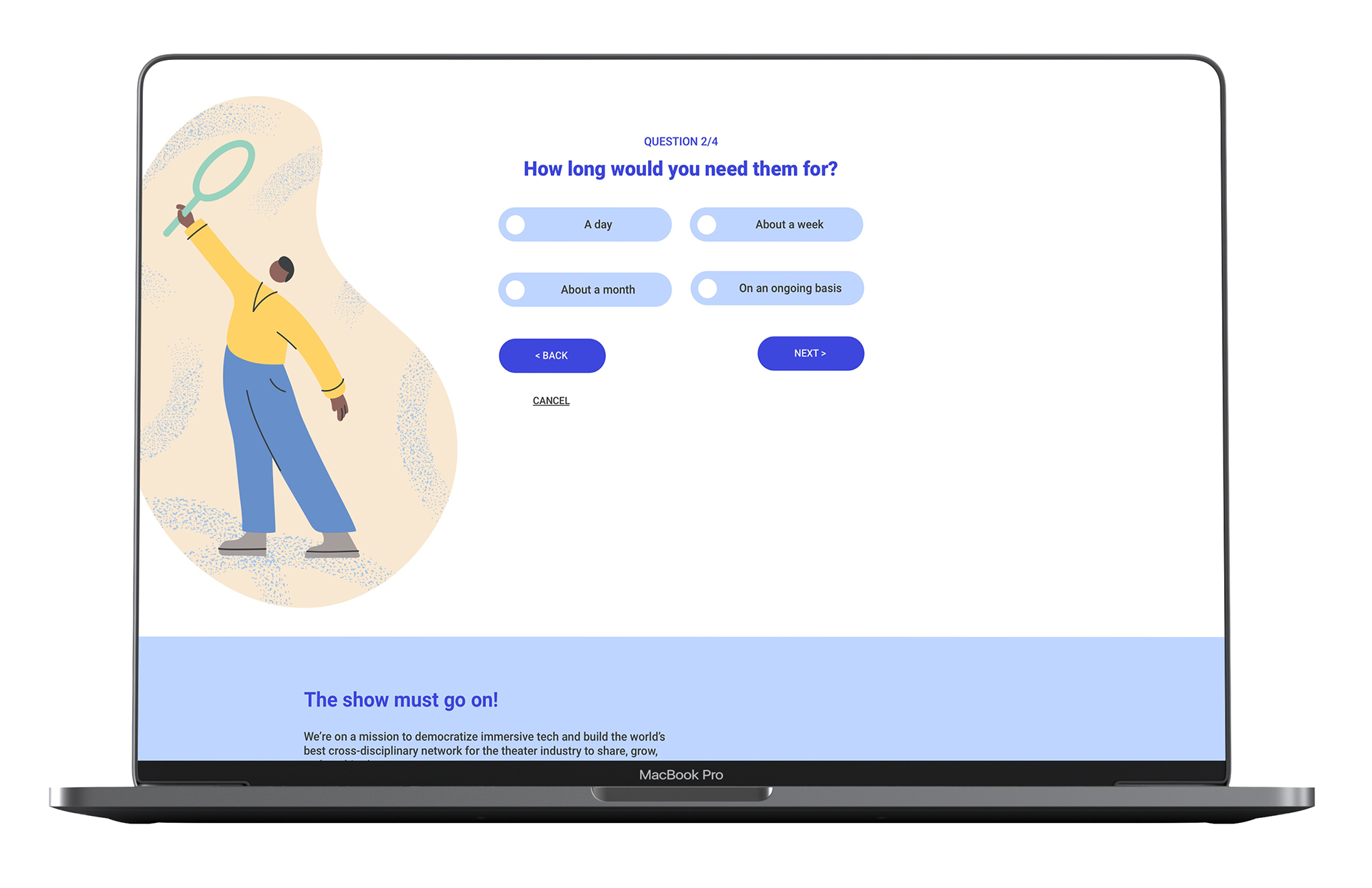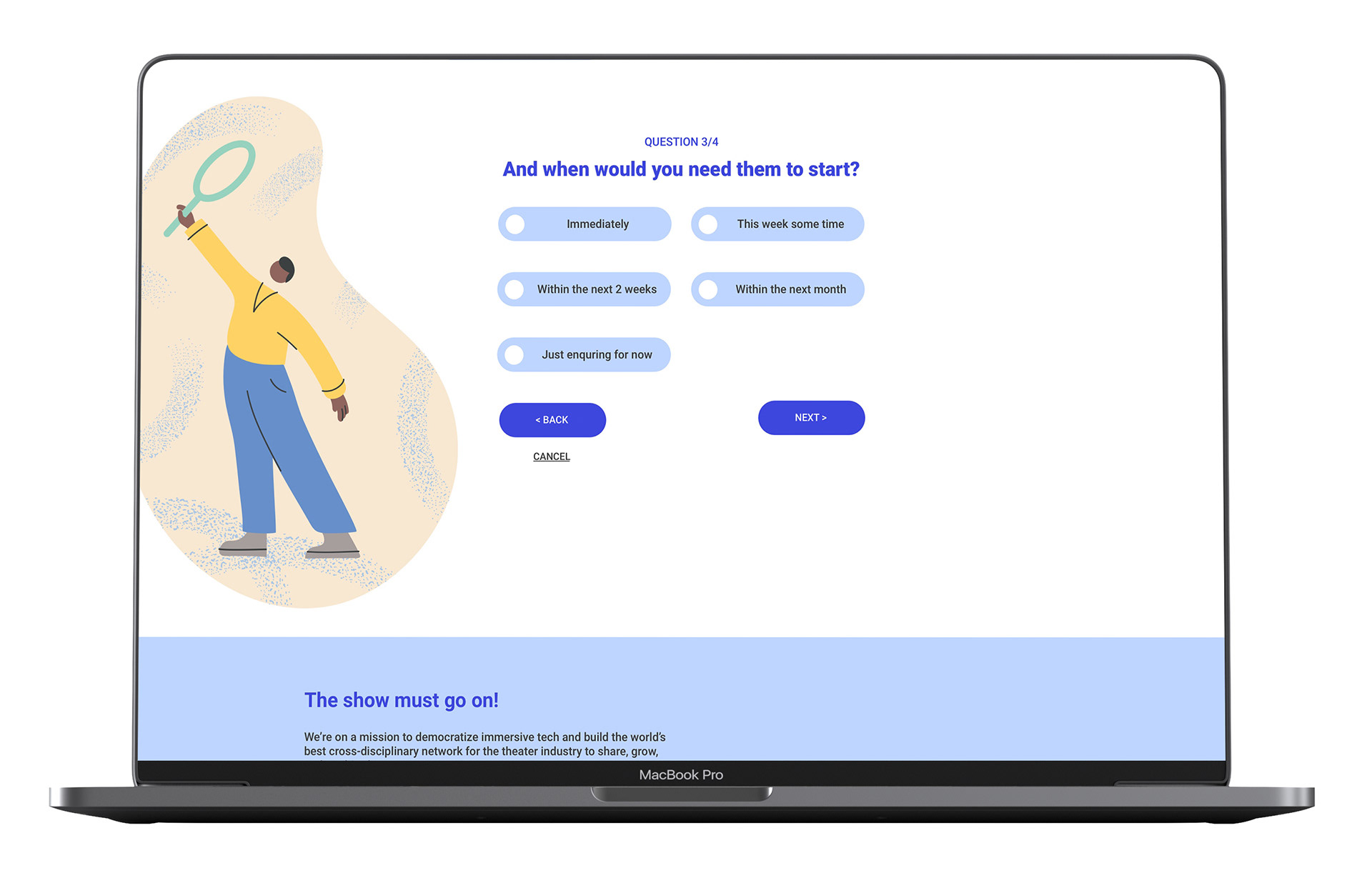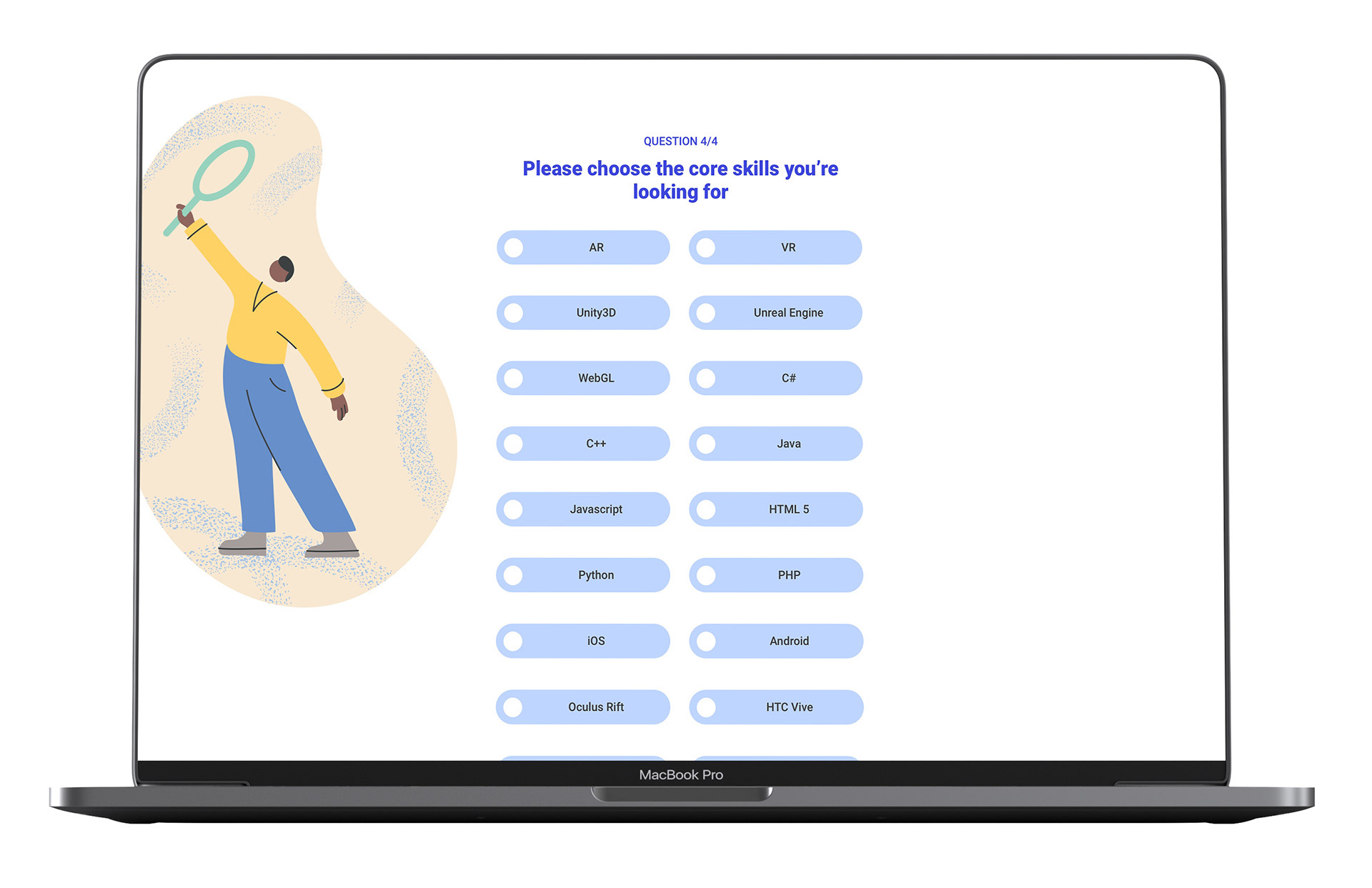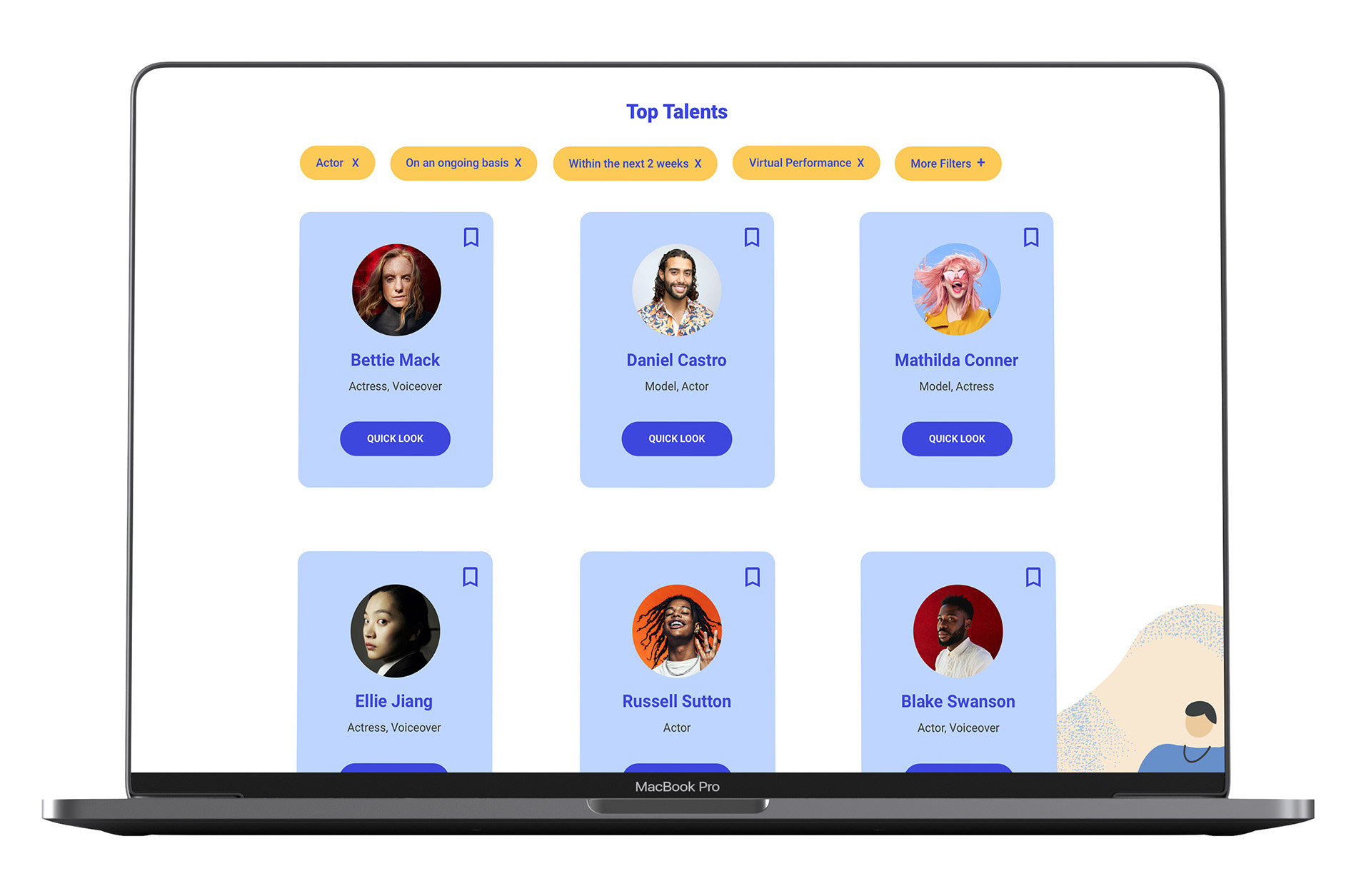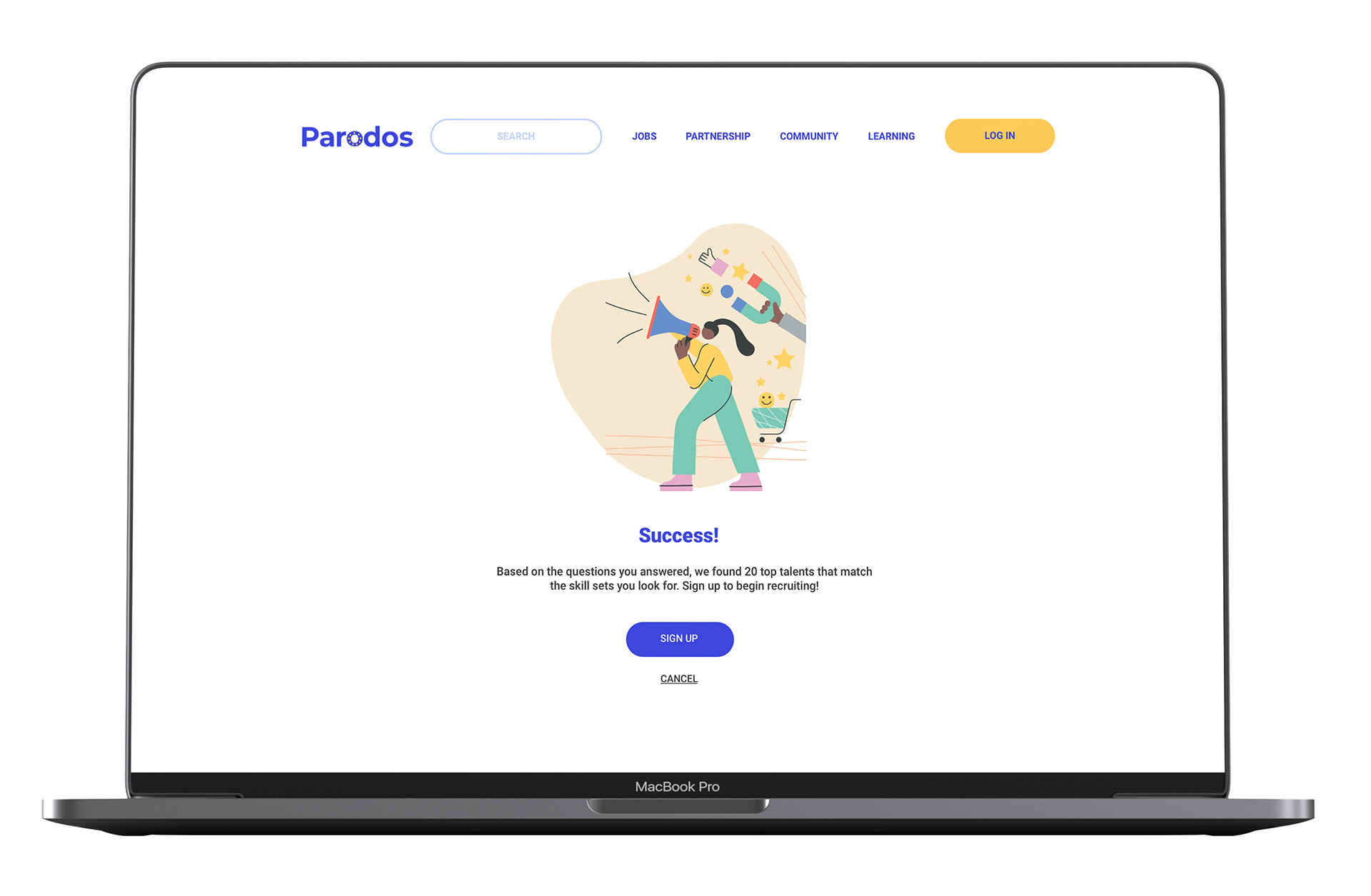 We tested our key pages and onboarding experiences with the stakeholders we interviewed. They provided feedback that they found the website helpful and would recommend to colleagues and friends who are in the industry to join. They also found the onboarding to be efficient and straightforward in guiding them when they first visited the site.
Due to time constraints, we spent more ti

me doing thorough research on our topic and stakeholder. I only sorted out the sitemap and developed a high-level prototy

pe on key pages. I would love to roll-out the rest of the pages and conduct more user testing on the high-fidelity prototype as the next step. 
With the pandemic, it was difficult to have face-to-face conversations with our stakeholders and conduct research in-person. However, we discovered shifting from in-person to virtual has encouraged us to reach a more diverse group of experts. When there was no geographic limitation in conducting user research, we found insights from different stakeholders in the U.S. and other countries. We heard the typical constraints they share in virtual theater production.